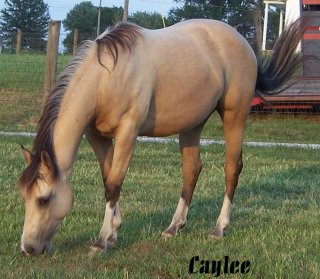 Click on pic to see more pics and info.
"CAYLEE"
2005 AQHA BUCKSKIN FILLY
Also registered with NFQHA at 91%
Sire: OH CAY QUIXOTE
Dam: GUN TOWN FEATURE
As of Nov 14th, 2009, Caylee is in training with Jerry Hornberger.
Caylee came home from the trainers on March 31st, 2010. She did really well for Jerry.
This is going to be Melinda's trail horse and riding mount.